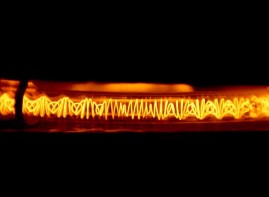 Celebrating 20 Years of Excellence!
With a widely varied customer base, providing electroforms and related electroforming services since 1994 to both governmental and commercial sectors, American Galvano is helping to define the state of the art of Electroforming. We use computer linked metallurgical samplers and automated test equipment grade electroforming power supplies, not only to monitor the desired metal qualities of the electroform, but also to control those qualities.
At American Galvano we have created both sensitive and demanding electroformed components before, however, each new electroform usually presents some interesting deviations from the types of electroforms we have created previously. All successful electroformed components have one inherent basic requirement:  Knowledge of the problems before they occur and not hunting for a fix after they do. American Galvano firmly believes in an open line of communication, even though most of our electroforming technology is proprietary – our customers may take an integral and active role in the planning and production of their electroformed component.
With the vast amounts of electroforming knowledge available through American Galvano we can provide you with all aspects of the electroforming process technologies, from single electroform consultation and manufacture to a complete electroforming facility set up.